Unless you have been living under a rock, I'm sure you would have read about the slew of measures taken by the Chinese government targeting the Chinese technology companies, as well as the private educational service providers.
Negative events like this will naturally result in the listed companies seeing their share prices tumble – and in turn, this will have an impact on the benchmark index.
The Hang Seng Index, when the market closed today, was down by another 1.84% to close at 24,849 points for the week, and is now officially in bear market territory (for those of you who does not know what causes the market to be in bear territory, it is when the market falls by more than 20.0% from its most recent high – for Hang Seng Index's case, the index's recent high was at 31,183 points on 18 February 2021, and as such, if it falls to 24,945 and below [I've denoted where it is in the chart below], it is considered to be in a bear market.)
Question – will the index plunge lower from here when it resumes trading next Monday, or will there be some rebound? In this post, you'll find my thoughts, both bullish as well as bearish (along with some key support/resistance lines to take note of) based on my technical analysis, where I'm using the following:
Moving average on a weekly basis – 20-day (dark green), 50-day (light green), 100-day (orange), 150-day (yellow), and 200-day (red)
Fibonacci retracement based on the Index's weekly charts
Moving Average Convergence Divergence (MACD) on a daily timeframe
Stochastic on a daily timeframe
The following is the movement of the Hang Seng Index (on a daily timeframe) which I have captured after the market closed: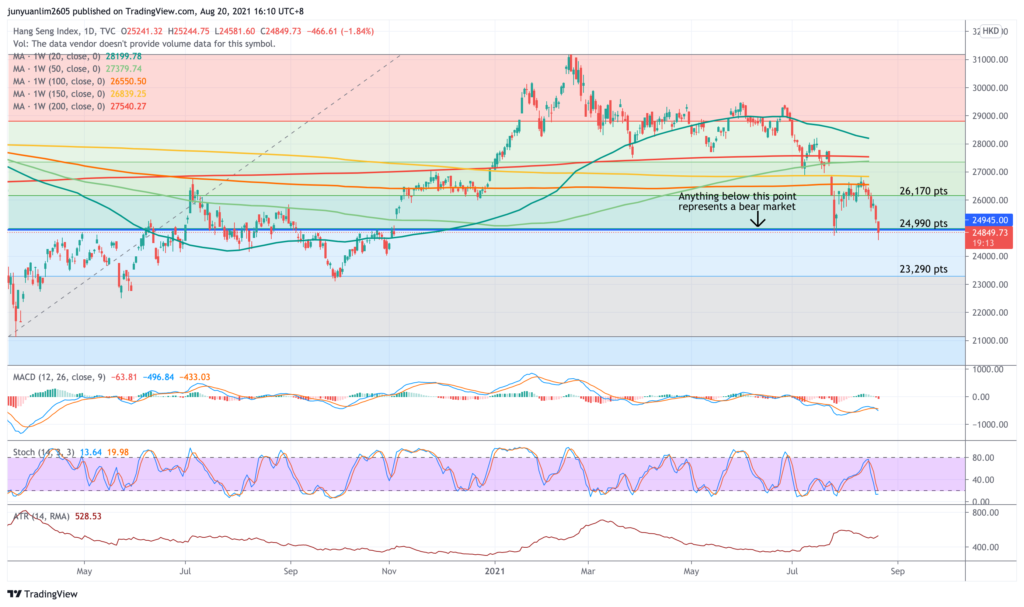 On one look, you can tell that the movement of the Hang Seng Index is certainly bearish, where it is currently under all of the moving averages. In terms of the technical indicators I've used, MACD is in a downtrend. The same goes for its stochastic, and it is currently in an oversold territory. However, if I were to look at the very last candlestick (which is for today), the lower wick denotes that there's some rejection of lower prices.
As such, how may the index possibly move next Monday morning (23 August 2021) when trading resumes? In a bullish scenario, it could stage a rebound and pull itself back up from the bear market position – where it has to move above 24,945 points. If it is able to do so, then there's a resistance line (based on the Fibonacci retracement I have identified) at 24,990 points. Should the index be able to break through this resistance line, then we could see some mini-recovery back up to around 26,170 points, where the next resistance line can be found.
In a bearish scenario, the index could fall further down towards the next support level at 23,290 points – the last time the index was at this level was around late-September 2020.
Which scenario could more likely play out? It's a 50-50 if you ask me. Why do I say so? Because many of the Hong Kong-listed companies will be reporting their financial results (most of them for the first half of the financial year 2021 ended 30 June 2021) over the next 2 weeks or so, and if they were to report resilient sets of results (along with positive outlooks from the management in the second half of the year ahead), it could very well act as a catalyst for the index to stage a near-term rebound up. However, on the other hand, should the Chinese government were to announce even more measures which could negatively impact any of the listed companies (especially if the measures would affect their revenue growth), then it is very likely that the index will continue to plunge even lower.
Having said all of that, do take note that the above is purely my personal analysis of the Hang Seng Index based on my technical analysis, which I am sharing for educational purposes only. At the same time, the above is also my response to those who have asked for my opinions as to where the Hong Kong stock market is likely to go from here. Also, the above do not represent any buy or sell calls for any of the Hong Kong-listed companies.
Hope you'll find the contents above useful, and here's wishing you a great weekend ahead with your loved ones, and enjoy the National Day performance in the comfort of your home tomorrow evening!
Are You Worried about Not Having Enough Money for Retirement?
You're not alone. According to the OCBC Financial Wellness Index, only 62% of people in their 20s and 56% of people in their 30s are confident that they will have enough money to retire.
But there is still time to take action. One way to ensure that you have a comfortable retirement is to invest in real estate investment trusts (REITs).
In 'Building Your REIT-irement Portfolio' which I've authored, you will learn everything you need to know to build a successful REIT investment portfolio, including a list of 9 things to look at to determine whether a REIT is worthy of your investment, 1 simple method to help you maximise your returns from your REIT investment, 4 signs of 'red flags' to look out for and what you can do as a shareholder, and more!
You can find out more about the book, and grab your copy (ebook or physical book) here...