Shutterstock Inc. (NYSE:SSTK) operates Shutterstock.com, a platform that connects people who create content (such as images, videos, music, and 3D models) with those who want to use it. Users pay a fee to the creators for permission to use the content.
Apart from its namesake website, the following are also by the company:
Pond5 (Pond5.com) – a video-first content marketplace which extends the company's content offerings across footage, image, and music;
TurboSquid (TurboSquid.com) – a marketplace that offers more than 1 million 3D models and a 2D marketplace derived from 3D objects;
Offset (Offset.com) – which provides authentic and exceptional content for high-impact use cases that require extraordinary images, featuring work from top assignment photographers and illustrators from around the world; however, from 07 March 2023, Offset Images will only be purchasable on Shutterstock.com;
PremiumBeat (PremiumBeat.com) – the site offers exclusive high-quality music tracks and provides producers, filmmakers and marketers the ability to search handpicked production music from the world's leading composers;
BigStock (BigStockPhoto.com) – maintains a separate content library tailored for creators seeking to incorporate cost-effective imagery into their projects;
Splash News – acquired by Shutterstock in May 2022, it is the world's leading entertainment news agency for newsrooms and media companies worldwide.
In today's post, you will learn more about the company in terms of its financial performance, capital management, and debt profile over the last 5 years (between FY2018 and FY2022, the company has a financial year end every 31 December), as well as whether its current share price is considered to be trading at a 'discount', or at a 'premium'.
Let's begin…
Financial Performance
Shutterstock Inc. reports its results under 2 main business segments:
i. E-commerce – where customers who use Shutterstock's different websites have the flexibility to purchase a subscription-based plan that is paid either on a monthly or yearly basis to get access to licensed content, or to buy them on a 'on-demand' basis;
ii. Enterprise – where Shutterstock have dedicated sales, service, and research teams to serve customers that have unique content, licensing and workflow needs.
The following is the growth of the 2 business segments over the last 5 years:
FY2018
FY2019
FY2020
FY2021
FY2022
E-commerce
(US$'mil)
$366m
$392m
$413m
$490m
$501m
Enterprise
(US$'mil)
$255m
$258m
$254m
$283m
$326m
My Observations: Shutterstock's 2 business segments grew stably over the last 5 years, with its e-commerce business segment registering growth every single year, and registering a compound annual growth rate (CAGR) of 6.5%; for its enterprise business segment, apart from a slight blip in FY2020, the remaining 4 years saw it registering a year-on-year (y-o-y) improvement, and growing at a CAGR of 5.0%.
Total Revenue & Net Profit:
FY2018
FY2019
FY2020
FY2021
FY2022
Total Revenue
(US$'mil)
$623m
$651m
$667m
$773m
$828m
Net Profit
(US$'mil)
$55m
$20m
$72m
$92m
$76m
My Observations: While Shutterstock's total revenue saw pretty stable improvements every single year, and growing at a CAGR of 5.9%, its net profit saw y-o-y declines in 2 out of 5 years (in FY2019 due to higher spending in higher performance marketing initiatives and higher general and administrative expenses, largely attributable to investments made across cyber security, data science and analytics, and technology spend and the lack of a gain recognised in 2018 on the sale of Webdam, as well as in FY2022 due to an $18.7m impairment of lease and related assets, partially offset by growth in revenue); despite of that, its net profit still manage to record a pretty decent CAGR of 6.7% in the same time period.
Return on Equity (%):
In layman terms, Return on Equity, or RoE for short, is a measure of the amount of profits a company is able to generate for every single dollar of shareholders' money it uses in its business; personally, my preference is towards those that manage to record a RoE of above 15.0% over the years.
The following table is Shutterstock's RoE over the last 5 years:
FY2018
FY2019
FY2020
FY2021
FY2022
Return on
Equity (%)
18.2%
6.5%
19.1%
20.6%
16.6%
My Observations: Apart from in FY2019, where its RoE fell to mid-single digit percentage, the remaining years saw Shutterstock's RoE at above 15.0% – even though it has fluctuated.
Capital Management
Apart from a company's financial performance, another area I focus on whenever I study about a company is its capital management, where my preference is towards companies that have low or no debt (the latter preferred), as well as one that is in a net cash position.
Did Shutterstock's capital management over the years fulfil this requirement of mine? Let us have a look in the table below:
FY2018
FY2019
FY2020
FY2021
FY2022
Net Cash/
Debt
(US$'mil)
+$231m
+$247m
+$378m
+$269m
+$21m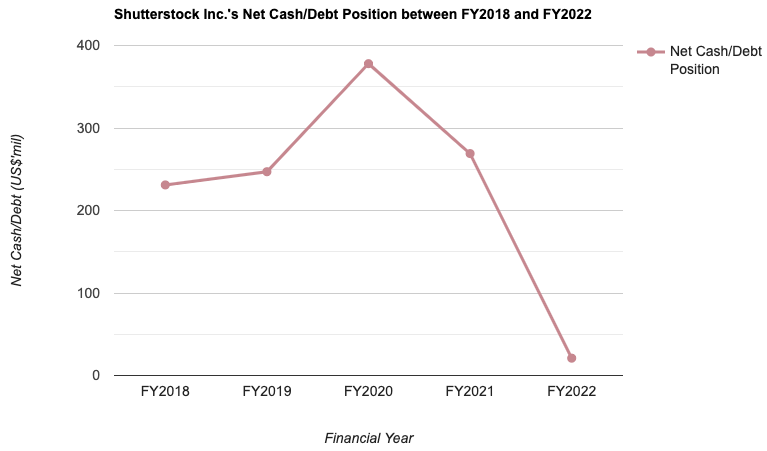 My Observations: While Shutterstock is in a net cash position throughout the entire 5-year period I have look at (which is good to note), but in recent years, its net cash position have gone on a steep decline (a small negative here).
Dividend Payout to Shareholders
The management of Shutterstock declares a dividend payout on a quarterly basis to its shareholders since FY2020 (again, good to note), but do take note that if you are a Singaporean investing in a US-listed company, all dividend payouts will be subjected to a 30.0% withholding tax – meaning the dividend payout you eventually receive will be 30.0% lesser than what is declared.
Having said that, let us take a look at its dividend payout over the last 5 years:
FY2018
FY2019
FY2020
FY2021
FY2022
Dividend Per
Share (US$)
–
–
$0.68
$0.84
$0.96
My Observations: Since the company started to pay out dividends to its shareholders from FY2020, its dividend per share over the last 3 years have been on an upward moving trend.
Is the Current Traded Price of Shutterstock Inc. at a 'Discount' or 'Premium'?
Based on its current traded price of $42.16 as at last Friday (01 September 2023), the following table is a comparison of the US-listed company's current vs. its 5-year average valuation:
| | | |
| --- | --- | --- |
| | Current | 5-Year Average |
| P/S Ratio | 1.82 | 3.20 |
| P/B Ratio | 3.38 | 5.61 |
| Dividend Yield | 2.28% | 0.71% |
My Observations: Looking at its current valuations vs. its 5-year average, I conclude that Shutterstock is currently trading at a 'discount' – for its current P/S and P/B ratios are below its 5-year average. At the same time, its dividend yield is above its 5-year average.
Closing Thoughts
To summarise, what I like about the NYSE-listed company is its stable financial performance (where its total revenue and net profit have grown stably over the last 5 years, with their CAGR at 5.9% and 6.7% respectively.) Another thing to note is the rising dividend payout since the management started to declare one from FY2020.
Also, for those who like to bargain hunt, the company's current traded price is at a 'discount'.
On the other hand, what I do not quite like is its irregular RoE growth over the years (even though it has been at above 15.0% in 4 out of 5 years), and that its net cash position is on a steady downward decline in recent years.
I hope the contents above have given you a good understanding of Shutterstock Inc. As always, the contents above does not constitute any buy or sell calls for the company's shares. You are strongly encouraged to do your own due diligence before you make any investment decisions.
Disclaimer: At the time of writing, I am not a shareholder of Shutterstock Inc.
Launch Event for My First Book: building your REIT-irement portfolio
After months of hard work, my first book, 'Building Your REIT-irement portfolio' is finally ready! In this easy-to-follow 178-page guide, you'll learn everything you need to know about building a REIT portfolio that can provide for you in your retirement years. You can check out a preview of the book here.
I'm extremely thankful to the team at InvestingNote and ShareInvestor for their help to organise a book launch event for me on Tuesday, 26th September 2023, from 6:00pm to 8:00pm at their office in New Tech Park.
For more details and to RSVP (seats are extremely limited), click on the link below:
Click here for more details on the book launch event and RSVP here...