Mapletree Industrial Trust (SGX:ME8U) was the first of the trio of Mapletree REITs to hold its annual general meeting for the financial year ended 31 March 2023 (i.e., FY2022/23) yesterday (19 July) afternoon, where I attended in-person (as there isn't any options for unitholders to attend virtually.)
Apart from seeking updates from the REIT's management, I also had the opportunity to meet up with friends of InvestingNote at the meeting venue, and engaged in some meaningful discussions, including Kathy from The Joyful Investors, who were also in attendance: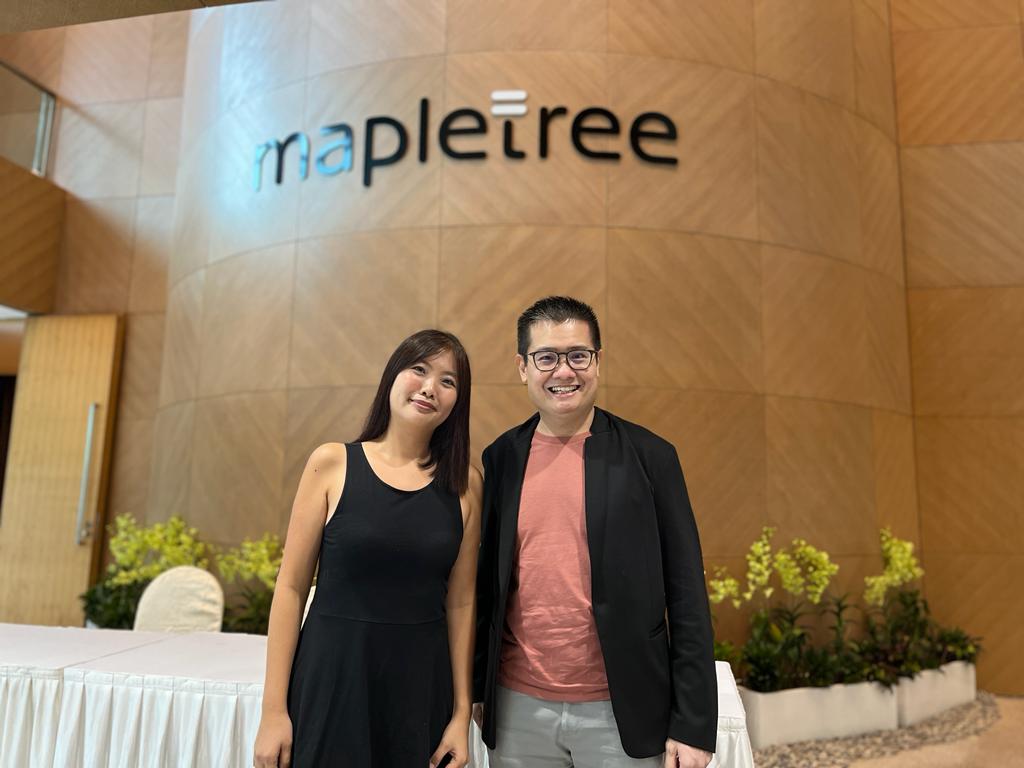 Another thing to point out from the meeting was the willingness of the REIT's CEO, Mr Tham Kuo Wei, to respond to unitholders' questions after the meeting (which ended at around 4pm), where he stayed till about 5pm. When he saw us outside, he came over to say hi to us, and I had a brief chat with him (as the conversation happened after the official meeting, I am not going to talk about the contents here.) His act certainly impressed me! (Because most of the times, the management will just leave right after the meeting.)
In this post, you can find my summary of the AGM proper – including the presentation made by the CEO and the CFO Ms Lily Ler, responses to questions raised during the meeting, and results of the 3 resolutions put to vote.
Let's begin:
Presentation by Mr Tham and Ms Ler
Financial Results:
Gross revenue and net property income increased by 12.3% and 9.7% to S$684.9m (FY2021/22: S$610.1m) and S$518.0m (FY2021/22: S$472.0m) respective due to the full-year contribution 29 data centres in the United States acquired in July 2021.
However, due to higher borrowing costs and manager's management fees, amount distributable to unitholders grew by 1.6% to S$356.6m (FY2021/22: S$350.9m).
Distribution Per Unit (or DPU) fell by 1.7% to 13.57 cents (FY2021/22: 13.80 cents) due to an enlarged unit base with additional units issued under the Distribution Reinvestment Plan (or DRP) to finance the funding needs of the redevelopment project at Kallang Way.
Capital Management:
Aggregate leverage ratio remains healthy at 37.4% (which Ms Ler attributes to the DRP for distributions from Q3 FY2021/22 to Q3 FY2022/23 [a total of 5 quarters] – without it, its aggregate leverage would have been at 39.5%), with a debt headroom of $686.5m and $1.140.9m to 45% and 50% respectively, allowing the REIT to tap on opportunities.
On the 38% hike in borrowing costs, Ms Ler explained it was due to the US Federal Reserve's 10 interest rate hikes over a 14-month period from March 2022. During this time, interest rates rose by a total of 5 percentage points.
With the US Federal Reserve signalling another 2 small interest rate hikes this year, borrowing cost is expected to remain high. However, with the series of interest rate hikes at the tail end, Ms Ler was hopeful for interest expenses to remain stable in the coming financial year (i.e., FY2023/24).
In the coming financial year, only S$175.0m (or 6.1%) of borrowings are due for refinancing, to which Ms Ler shared there remains S$1.4bn of facilities available for use.
Currently, 75.5% of the REIT's borrowings are hedged into fixed rates. It is looking to maintain the amount of borrowings that are hedged to between 70% and 80%, which will protect it from rising interest rates.
Based on 24.5% of unhedged borrowings as at 31 March 2023, a 50 basis point change in base rates would have an estimated impact of S$2.6m on the amount available for distribution to unitholders or an impact of 0.09 cents/unit on its DPU per annum.
85.5% of the REIT's FY2022/23 US dollar net income was hedged into Singapore dollar through forward contracts.
Portfolio Performance:
Key updates include:

Completion of its largest redevelopment project, Mapletree Hi-Tech Park @ Kallang Way in March 2023, with its current occupancy rate by net lettable area at 44.1%;
Proposed acquisition of a data centre in Osaka, Japan, where it is a new facility; the move allows the REIT to diversify to a new geography, and bring down the concentration of data centres (in terms of percentages) in both United States (from 50.3% before the acquisition to 47.6% after) and Singapore (from 3.4% before the acquit ion to 3.2% after);
Divestments in 2 non-core properties to redeploy capital for investments: (i) 19 Changi South Ave 1, Singapore at S$1.1m above its valuation; (ii) 19675 West Ten Mile Road, Southfield, Michigan, at US$3.1m above its valuation.

Average overall portfolio occupancy rose from 93.9% in FY2021/22 to 95.5% in FY2022/23, driven by an increase in occupancy in its Singapore Portfolio (up from 93.8% in FY2021/22 to 96.2% in FY2022/23).
Very healthy retention rate of 86.3% for its Singapore Portfolio (up from 82.5% in FY2021/22).
Despite headwinds, Mr Tham shared the REIT's assets under management remains the same compared to last year (at S$8.8bn).
Large and well-diversified tenant base of 2,366 tenants with 2,803 leases. Top 10 tenants (all of them very established entities) accounting for 29.5% of the overall portfolio's monthly gross rental income, with no single tenant contributing more than 5.9%.
Two-thirds of its properties, and almost all of the REIT's US properties sit on freehold land, and the weighted average unexpired lease term for underlying leasehold land for the properties at 35.3 years as at 31 March 2023.
On the REIT's data centres in North America, 61.5% are powered shell data centres with very few moving parts, 90.1% of the leases are on a Triple Net basis, with no maintenance required, along with a good spread across all operator types (45.4% are colocation partners, 34.7% are enterprise/end users, 13.8% are cloud/hyperscale providers, and 6.1% are others). WALE is also long at 5.6%, with 48.4% of the leases having expiries beyond 5 years.
Key ESG Highlights:
Environmental: Achieved BCA Green Mark Platinum Award for 161 and 163 Kallang Way and BCA Green Mark GoldPlus [COPY PASTE PLUS FROM PPT] Award for Serangoon North cluster, as well as installation of solar panels at 5 flatted factory clusters with generating capacity of about 4,000 kWp. It continues to work towards the following long-term targets by FY2029/30 – 15% and 17% reduction in average building electricity intensity and average building GHG emissions intensity respectively, and 10,000 kWp of total solar energy generating capacity; Mr Tham emphasised on the Group's aim to achieve Net Zero by the year 2050.
Social: Engaged 26% of tenants (by overall portfolio's net lettable area) on ESG matters (including data sharing), average training hours per employee of 49.2 hours in FY2022/23 (up from 43.3 hours in FY2021/22), and being ranked in Top 10 in Singapore for Gender Equality in 2022 by Equileap.
Governance: Improved GRESB Real Estate Assessment Score from 50 points in 2021 to 71 points in 2022, attained 'A' for GRESB Public Disclosure Level, and improved female representation on the Board from 18% to 25%.
Outlook Ahead:
Singapore Industrial Property Market: Anticipate rental growth of 3-5% in 2023.
North American Data Centre Market: Anticipate growth to continue by double digits in the next few years driven by the rapid growth of cloud computing and proliferation of Internet of Things.
Moving forward, the REIT will strengthen portfolio resilience by scaling up data centre presence, building a portfolio of higher value assets and exploring opportunistic divestments of non-core assets (and recycle the capital to higher value assets).
Right of first refusal from the Sponsor for the acquisition of its 50% interest (approximately S$1bn in value) in MRODCT will be a significant pipeline for growth.
Responses to Questions Raised by Unitholders during the Meeting
One unitholder highlighted concerns about the REIT's third-largest tenant (a global colocation provider, which contributed 3.2% towards its gross rental income in FY2022/23) entering into Chapter 11 bankruptcy process in June 2023, and asked about its impact. Mr Tham shared that while the tenant had met its rental obligations for April and partially fulfilled its rental obligations for May, but it has not fulfilled its rental obligations in June, which the REIT was unable to pursue for the time being as it has filed for Chapter 11 bankruptcy process. However, he shared from observations that activities are still ongoing in 8 of the facilities (with 6 of them very well-utilised), and reassured the unitholder the REIT will work to protect as much leases as possible with limited impact on its overall performance. Also, as the tenant contribution is just 3.2%, any negative impacts is very much contained.
The same unitholder asked about the dip in valuations in some of the REIT's properties in the United States, to which Mr Tham said that the valuers in the country rely on discounted cash flow analysis to determine the value of real estate assets. This analysis takes into account the expected future cash flows from the property (and factors such as impending anticipated non-renewals of tenants, and expiring leases are being considered), as well as the current market conditions.
Another unitholder asked if the REIT would consider investing in commercial properties, given the current low valuations. Mr Tham responded that the REIT's investment mandate is specifically in industrial and data centre properties.
On whether the fall in valuation of commercial properties in the United States will have an impact on the valuations of the data centres in the country, Mr Tham said the impact, if there is any, will be very limited, as specifications and user types for the 2 property types are very different.
With data centres constituting about 53% towards the REIT's total assets under management, a unitholder asked about the REIT's plans in terms of level of concentration in data centre properties. Mr Tham said in the near-term, the plan was to have between 50% and 65-66% of assets under management in data centres, and at the current percentage, it is still well-within the range. On acquisitions, Mr Tham shared the chances of the REIT acquiring more data centres in the near-term is higher. However, he added that the REIT is also exploring in acquiring industrial properties used for Research & Development as well as life sciences in Singapore as well as overseas.
One unitholder noted that the REIT's credit rating by Fitch Rating as at 31 March 2023 was 'BBB+ Stable', and wanted to know how it compares with other REITs, as well as how it can be improved. Ms Ler shared that credit ratings was a requirement by the Monetary Authority of Singapore (MAS) in the past for them to have an aggregate leverage of above 35%, but this requirement has since been removed. Despite REITs no longer required to share on their credit ratings, Mapletree Industrial Trust have continued to do so, as it allows them to tap onto the bonds market for fund raising. On its credit rating, Ms Ler said most REITs have around the same credit rating as Mapletree Industrial Trust's. Finally, on how the REIT can improve its credit rating, Ms Ler explained will require more diversification in geography and asset class to move a notch up, but the difference (between its current credit rating, and one notch above) is not significant.
Results of 3 Resolutions Put to Vote during the Meeting
Resolution 1, which is to receive and adopt the Trustee's Report, the Manager's statement, the Audited Financial Statements for MIT for the financial year ended 31 March 2023 and the Auditor's Report thereon, was passed with 99.63% of the votes for, and 0.37% of the votes against.
Resolution 2, which is to re-appoint PricewaterhouseCoopers LLP as the Auditor of MIT and to authorise the Manager to fix the Auditor's renumeration, was passed with 99.17% of the votes for, and 0.83% of the votes against.
Resolution 3, which is to authorise the Manager to issue Units and to make or grant instruments convertible into Units, was passed with 94.96% of the votes for, and 5.04% of the votes against.
Related Documents
Disclaimer: At the time of writing, I am a unitholder of Mapletree Industrial Trust.
Launch Event for My First Book: building your REIT-irement portfolio
After months of hard work, my first book, 'Building Your REIT-irement portfolio' is finally ready! In this easy-to-follow 178-page guide, you'll learn everything you need to know about building a REIT portfolio that can provide for you in your retirement years. You can check out a preview of the book here.
I'm extremely thankful to the team at InvestingNote and ShareInvestor for their help to organise a book launch event for me on Tuesday, 26th September 2023, from 6:00pm to 8:00pm at their office in New Tech Park.
For more details and to RSVP (seats are extremely limited), click on the link below:
Click here for more details on the book launch event and RSVP here...