Disclaimer: Whatever you may read in this post is my sharing for educational purposes only. It does not represent any buy/sell recommendation for the company's shares. Also, at the time of writing, I am not trading in the shares of Sri Trang Agro.
One of the most hotly traded Singapore-listed companies of late is Sri Trang Agro-Industry Public Company Limited (SGX:NC2), due to the overwhelming demand for rubber gloves in light of the Covid-19 pandemic, where its subsidiary, Sri Trang Gloves (Thailand) Ltd, is the largest glove producer in Thailand and is ranked among the world's leading glove producers.
So, how is the company's share price going to move in the near-term? In this post, I'll be sharing with you my technical analysis of the company's share price movement (on a daily timeframe), which I hope you'll find useful.
Sri Trang Agro's Share Price Movements since January 2011
First up, let us look at the company's share price movements (on a daily timeframe) since January 2011: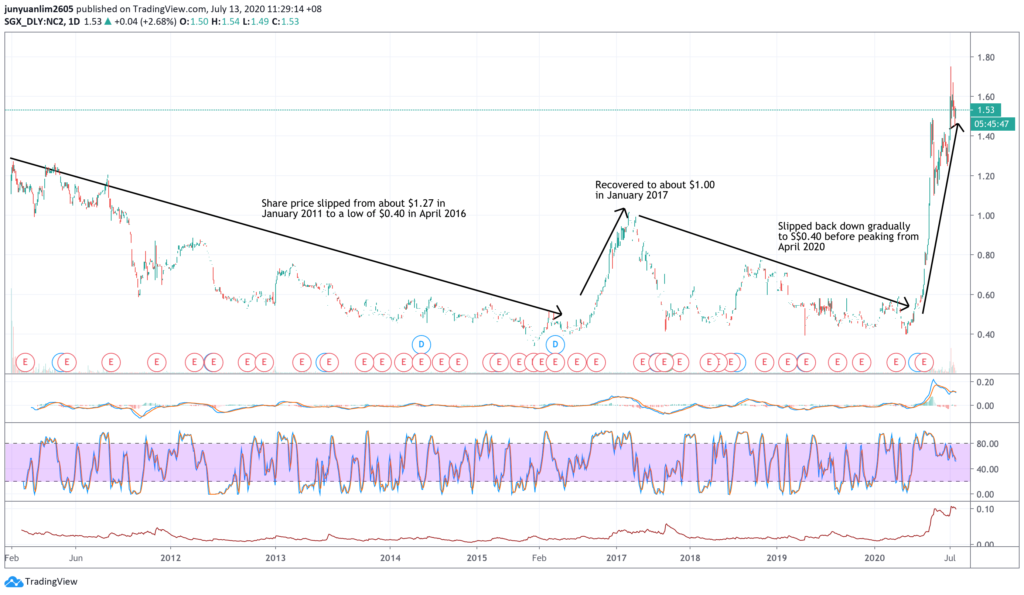 The company's share price slipped from a high of $1.27 in January 2011 to a low of S$0.40 in April 2016 – a fall by 68.5% over 5 years. Its share price then started to recover thereafter to S$1.00 in January 2017, before dropped back down to S$0.40 in April 2020 before skyrocketing to a high of S$1.75 in July 2020.
Now, allow me to zoom into the company's recent share price movements and analyse how it is likely to move in the near-term (again based on a daily timeframe):
Zooming into Sri Trang Agro's Recent Share Price Movements
As you can see from the company's recent share price movements above, you can tell that it is on an uptrend (as you can see higher highs and higher lows – which I've identified in the image above with downward and upward pointed arrows respectively.) Also, notice how the share price bounces up whenever it hits the support line of the uptrend channel, as well as how it bounces down whenever it hits the resistance line of the uptrend channel.
At the time of writing this post, the share price of Sri Trang-Agro is trading at S$1.52, where the share price bounced up after hitting the support line of the uptrend channel.
Looking at the trading volume the past couple of days, even though its share price have slipped in the past 3 trading days, but trading volume have decreased as well, suggesting that the downward pull may have weakened. In terms of the other technical indicators, both MACD and stochastic are currently in a downtrend.
From the looks of it, it does seem like in the days to come, its share price looks like it is going to once again bounce up from the support line of the uptrend channel, where it could potentially move up to around S$1.64, where the light-blue dotted line is.
In case you're wondering, if I were to trade in this one, I will wait for further confirmation – in that I will wait for the technical indicators MACD and stochastic to reverse into an uptrend.
But having said that, I'd like to re-iterate that this post is by no means a recommendation for you to buy/sell shares of the company. Please do your own due diligence before you make any trading decisions.
Launch Event for My First Book: building your REIT-irement portfolio
After months of hard work, my first book, 'Building Your REIT-irement portfolio' is finally ready! In this easy-to-follow 178-page guide, you'll learn everything you need to know about building a REIT portfolio that can provide for you in your retirement years. You can check out a preview of the book here.
I'm extremely thankful to the team at InvestingNote and ShareInvestor for their help to organise a book launch event for me on Tuesday, 26th September 2023, from 6:00pm to 8:00pm at their office in New Tech Park.
For more details and to RSVP (seats are extremely limited), click on the link below:
Click here for more details on the book launch event and RSVP here...