** Update on 15 November 2021 – 'The Edge Singapore' is now made available for reading if you are a member of Singapore's National Library mobile app (NLB Mobile). You can check out my updated step-by-step instructions on how you can read the latest edition of the finance magazine here…
I understand that many of you here are interested in the articles published by "The Edge Singapore" every week.
Recently, I discovered a way to read new issues of this weekly publication for free, and I'd like to step you through it in this post (all it takes is just 5 simple steps):
Step #1: Download these 2 Apps from Your App Store/Google Play Store
You need these 2 free apps in order to read "The Edge Singapore" online (you can click on the respective links to download the apps to your phone/tablet):
i. NLB Mobile – App Store / Google Play
ii. PressReader – App Store / Google Play
Step #2: Access the PressReader App through the NLB Mobile App
What you need to do here is to access the NLB Mobile App, and tap on the "eNewspapers & eMagazines" option. Doing so will launch the PressReader app:
Please note that you need to sign up for a free NLB account if you do not have one.
Step #3: Search for "The Edge Singapore" within the PressReader App
When you're inside the PressReader app, under "Search Publications", enter "The Edge Singapore":
Thereafter, you need to tap on the publication, which will appear on the right:
Step #4: Start Reading the Latest Issues of the Publication
You can tap on the download button to read the latest issue (I've highlighted where the download button is in a black rectangular box below), or the other issues by tapping on their respective download buttons):
Upon tabbing on the download button, you'll see a popup stating, "Publication sponsored by the National Library Board of Singapore". Just tap on the "Ok" option to proceed:
Step #5: Start Reading Your Downloaded Copy of "The Edge Singapore"
After the edition has been downloaded to your mobile/tablet device, you will see a green tick button replacing the download button (I've highlighted it using a red rectangular box below). All you need to do is to tab on the "Read" button on the right hand side (I've highlighted where it is in a black rectangular box) to start reading the issue:
Viola! You can now enjoy reading the entire issue of "The Edge Singapore" for free: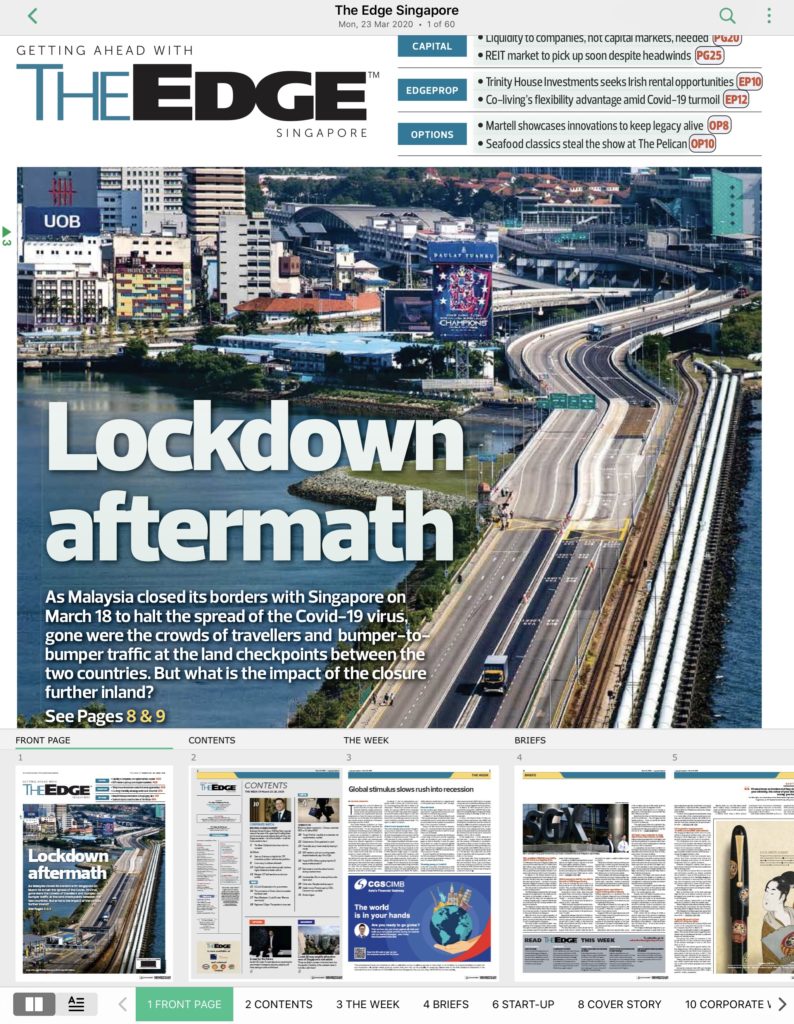 Launch Event for My First Book: building your REIT-irement portfolio
After months of hard work, my first book, 'Building Your REIT-irement portfolio' is finally ready! In this easy-to-follow 178-page guide, you'll learn everything you need to know about building a REIT portfolio that can provide for you in your retirement years. You can check out a preview of the book here.
I'm extremely thankful to the team at InvestingNote and ShareInvestor for their help to organise a book launch event for me on Tuesday, 26th September 2023, from 6:00pm to 8:00pm at their office in New Tech Park.
For more details and to RSVP (seats are extremely limited), click on the link below:
Click here for more details on the book launch event and RSVP here...